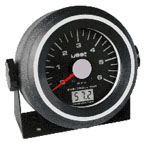 Sub-Troll 900 - Trolling Instrument
The ST-900 gives you both speed and temperature where you need it most, at the lure. Moor has engineered this system to install easily on any downrigger, even while your boat is afloat. This patented system allows you to monitor the speed of the lure - not the speed of the boat. You know immediately if under water currents are affecting the lure's action.
The ST-900 consists of only three interacting parts. The display readout, the antenna, and the sending unit. The sending unit attaches to the downrigger cable and transmits a signal to the antenna mounted on the downrigger boom. From the antenna the signal is sent to the display through a cable. There is no physical contact between the sending unit and the display readout. The readout may be installed up to 25 feet from the downrigger.
The ST-900 is the only system available that does not require transducers or grounding rods. The ST-900 uses a radio signal for the transmission of information thus you eliminate bothersome problems associated with sonar type systems. #40098 -- $589.99. SALE $528.99