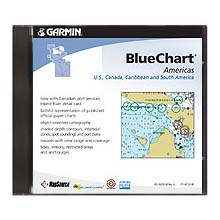 GARMIN MapSource BlueChart Americas V9
MapSource BlueChart is Garmin's exclusive marine cartography. It was developed to provide mapping flexibility and options you've never had before. BlueChart CD-ROMs provide the same detailed, object-oriented cartography as the pre-programmed BlueChart data cards, including specific region breakdowns.

Version 9 features include:

New! Now with new coverage of Newfoundland, Labrador and Hudson Bay

Includes Canadian port services; Inland River detail card
Includes Wavey line data for the Turks and Caicos Islands in addition to data from Explorer Charts for the Bahamas
Bathymetric data for East Coast and Gulf of Mexico
Updated coverage of U.S., Canada, Caribbean and South America
Trip and waypoint management functions
Detailed electronic nautical charts for several pre-defined regions in the specifiied area -- select the offshore region of your choice
Shaded depth contours and intertidal zones with spot soundings
Navaids with view range and coverage
Chart information such as chart name, number, scale, revision date, and latest Notice to Mariners
Wrecks, restricted areas, cable areas, anchorages, shoals, and spoilage
Americas version contains tides and port plans / contact information for local ports and marinas

Unlocking your coverage:

Coverage is broken down into different regions. A region must be unlocked prior to use. With the purchase of MapSource BlueChart CD ROM, customers will have access to one region area of their choice. The region can be unlocked through Garmin via their web site or by phone. You can reprogram the data card whenever you want by simply downloading different areas.